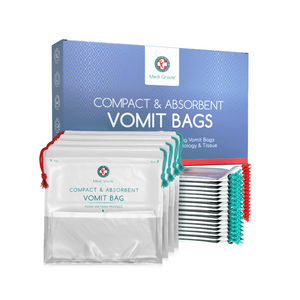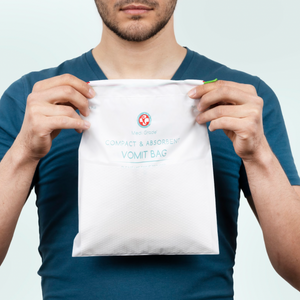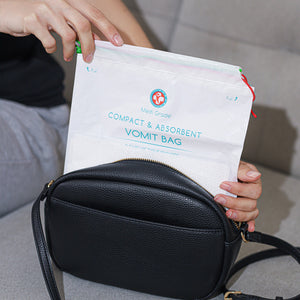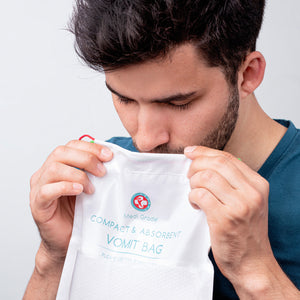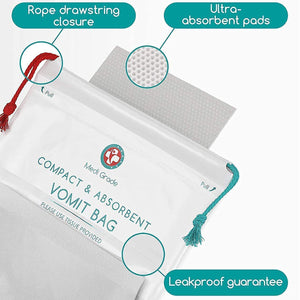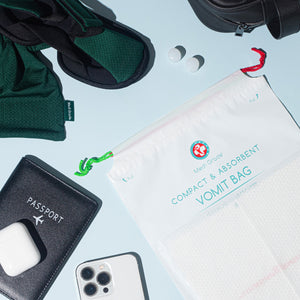 Medi Grade Travel Vomit Bag - Disposable Sick Bags

See our reviews on Trustpilot
SECURE NAUSEA RELIEF, TRAVEL WITH CONFIDENCE
Navigating through journeys with motion or pregnancy sickness is challenging. Medi Grade Vomit Bags are here to make those journeys more bearable, ensuring that unpleasant situations are dealt with discreetly and cleanly, locking away odours and potential spills.
VOMIT BAGS BENEFITS
⚪ Ultra-Absorbent & Odour-Free: Innovative Gel Technology absorbs vomit, minimises odour, and prevents spills, securing unpleasant contents effectively.
⚪ Generous Pack: Includes 22 disposable bags suitable for motion sickness, travel sickness, and morning sickness, adaptable for individuals of all ages.
⚪ Discreet Convenience: Compact and portable, fitting seamlessly into glove boxes and handbags, each bag is accompanied by a soft cotton tissue for added comfort.
⚪ Leak-Resistant: Superior to alternatives, each bag features a leak-resistant lining and drawstring closure for a clean and hassle-free experience.
MORE INFORMATION
Estimated Delivery
UK Standard Delivery will take 2-3 business days.
Express Delivery
UK Express Delivery will take 1-2 business day/s.
Please find our shipping policy here.
Please be advised that there may be significant delays with any orders placed this December due to the Royal Mail Strikes and the Christmas period. You can follow the latest updates here.
Refund policy 

If our product doesn't work, you have 30 days after receiving your item to request a return. Please find our full policy here.
Have a question?
We have an awesome customer service team who will be more than happy to help you. You can get in touch via email at info@medigrade.store .
Discover What Experts Say About Our Products
Dive into in-depth reviews by Dr. James O'Donovan, a trusted voice in the medical community. Explore Medi Grade top-rated products through his lens and make informed choices.
WATCH NOW