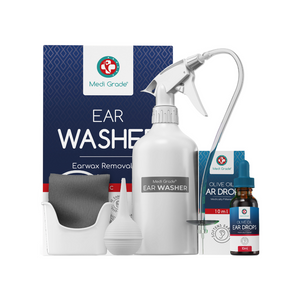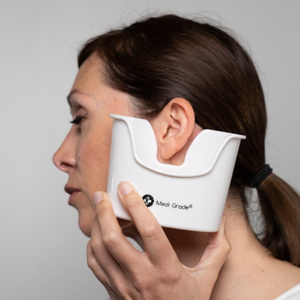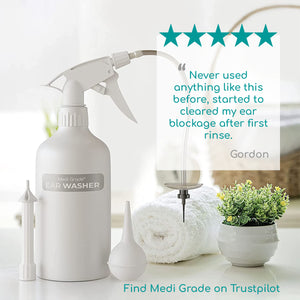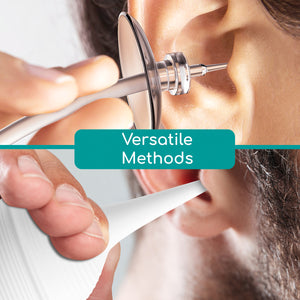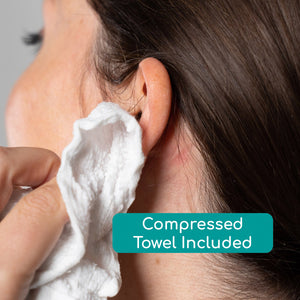 Medi Grade Ear Wax Removal Kit - Home Ear Cleaning Kit

See our reviews on Trustpilot
EXPERIENCE EFFECTIVE, ALL-IN-ONE EAR CLEANING
Say goodbye to excessive earwax! Immerse in a seamless, comprehensive ear cleaning experience with Medi Grade Ear Washer Bottle Kit, your one-stop solution for maintaining clean ears.
EAR WASHER BOTTLE KIT BENEFITS
⚪ Comprehensive Ear Cleaning Solution: Offering a complete kit, including a spray bottle, medically filtered olive oil ear drops, various nozzles, and tips for precise, effective ear cleaning.
⚪ Safe & Medically Certified Olive Oil: Formulated and certified for aural use, ensuring safe and effective softening of ear wax.
⚪ High Capacity & Multi-Nozzle Design: The 500ml water tank reduces the need for refills, and specialised nozzles ensure safe application, targeting earwax without harming the eardrum.
⚪ Bonus Ear Basin & Towel: The included basin offers mess-free use, and the microfiber towel aids in clean-up and drying, ensuring a hassle-free ear cleaning experience.
MORE INFORMATION
Estimated Delivery
UK Standard Delivery will take 2-3 business days.
Express Delivery
UK Express Delivery will take 1-2 business day/s.
Please find our shipping policy here.
Please be advised that there may be significant delays with any orders placed this December due to the Royal Mail Strikes and the Christmas period. You can follow the latest updates here.
Refund policy 

If our product doesn't work, you have 30 days after receiving your item to request a return. Please find our full policy here.
Have a question?
We have an awesome customer service team who will be more than happy to help you. You can get in touch via email at info@medigrade.store .
Discover What Experts Say About Our Products
Dive into in-depth reviews by Dr. James O'Donovan, a trusted voice in the medical community. Explore Medi Grade top-rated products through his lens and make informed choices.
WATCH NOW