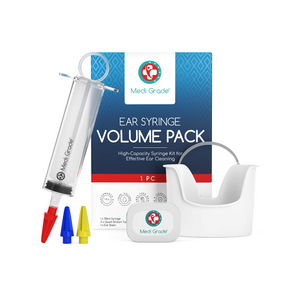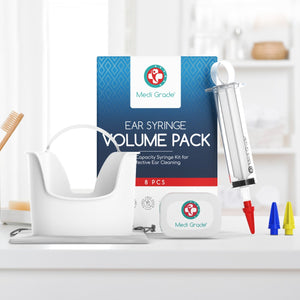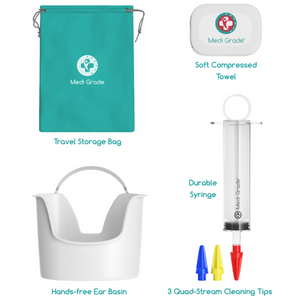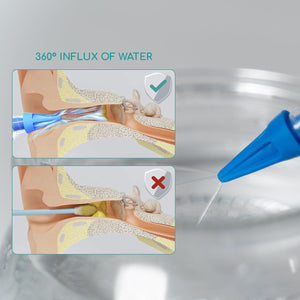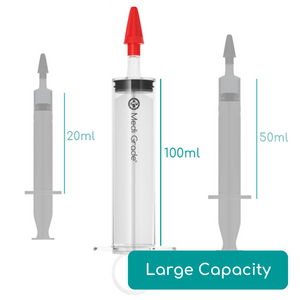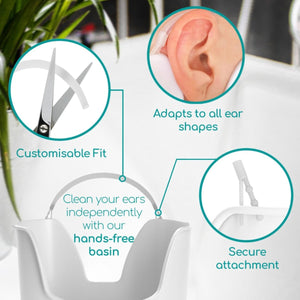 Medi Grade Ear Syringe Volume Pack - Ear Wax Cleaning at Home

See our reviews on Trustpilot
EXPERIENCE DEEP, REFRESHING EAR CLEANING
Medi Grade Earwax Removal Syringe Kit is your ticket to swift and thorough ear wax removal, assuring an easy-going application and comfort all through the cleaning process.
EARWAX REMOVAL VOLUME KIT BENEFITS
⚪ Comprehensive Ear Cleaner: Effortlessly and effectively removes earwax, offering a superior alternative to cotton swabs and other less effective methods.
⚪ Extra Capacity for Enhanced Cleaning: The high-capacity syringe ensures extensive cleaning, removing the need for constant refills.
⚪ Safe, Quick & Practical: Utilises water propulsion via a quad-stream syringe nozzle, allowing for safe and efficient ear canal irrigation and earwax passage.
⚪ Mess-Free Application: Comes with a unique, designed washbasin for easy water filling and quick clean-up, avoiding water splashes and wax clogging in your sink.
⚪ All-Inclusive Kit: Contains everything needed, including a 100ml syringe, 3 x Quad-stream tips, an ear basin, and a compressed towel, all packed in a handy storage bag for travel convenience.
MORE INFORMATION
Estimated Delivery
UK Standard Delivery will take 2-3 business days.
Express Delivery
UK Express Delivery will take 1-2 business day/s.
Please find our shipping policy here.
Please be advised that there may be significant delays with any orders placed this December due to the Royal Mail Strikes and the Christmas period. You can follow the latest updates here.
Refund policy 

If our product doesn't work, you have 30 days after receiving your item to request a return. Please find our full policy here.
Have a question?
We have an awesome customer service team who will be more than happy to help you. You can get in touch via email at info@medigrade.store .
Discover What Experts Say About Our Products
Dive into in-depth reviews by Dr. James O'Donovan, a trusted voice in the medical community. Explore Medi Grade top-rated products through his lens and make informed choices.
WATCH NOW