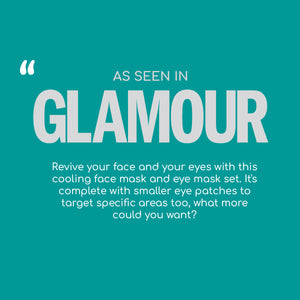 Medi Grade Cooling Gel Mask Set – Reusable Gel Pack for Face
Regular price
£15.99
Sale price
£19.99

See our reviews on Trustpilot
REVITALISE TIRED FACE SKIN WITH EASE
Indulge in rejuvenation and cooling sensation, perfect after exhausting days or during travels, with our innovative Cooling Gel Face Mask Set.
Cooling Gel Face Mask Kit Benefits
⚪ Cooling Gel Technology: Provides immediate relaxation and revitalises weary skin, reducing puffiness and dark circles.
⚪ Versatile Set: Comprises Gel Eye Mask, Gel Face Mask, Gel Eye Pads, and Gel Under-Eye Pads for thorough care.
⚪ Easy to Use & Apply: Simply freeze for 1 hr, apply to a clean face, adjust the straps as needed and relax for 5 – 15 mins.
⚪ Convenient & Portable: Accompanied by a cool bag for secure storage, making it an ideal travel companion.
⚪ Comprehensive Facial Rejuvenation: Targets the whole face and under-eye areas for a brighter, refreshed appearance.
⚪ Safe & Comfortable: Suitable for both home and travel, delivering a hydrating and cooling effect to revitalise tired skin.
MORE INFORMATION
Estimated Delivery
UK Standard Delivery will take 2-3 business days.
Express Delivery
UK Express Delivery will take 1-2 business day/s.
Please find our shipping policy here.
Please be advised that there may be significant delays with any orders placed this December due to the Royal Mail Strikes and the Christmas period. You can follow the latest updates here.
Refund policy 

If our product doesn't work, you have 30 days after receiving your item to request a return. Please find our full policy here.
Have a question?
We have an awesome customer service team who will be more than happy to help you. You can get in touch via email at info@medigrade.store .
Discover What Experts Say About Our Products
Dive into in-depth reviews by Dr. James O'Donovan, a trusted voice in the medical community. Explore Medi Grade top-rated products through his lens and make informed choices.
WATCH NOW
Hear what our customers say