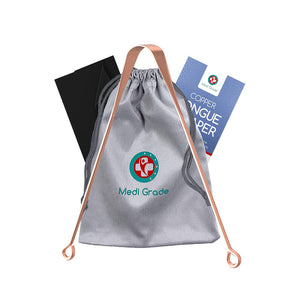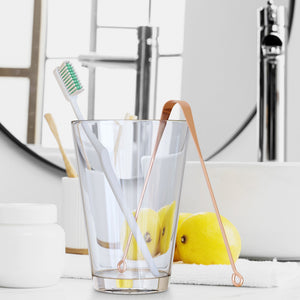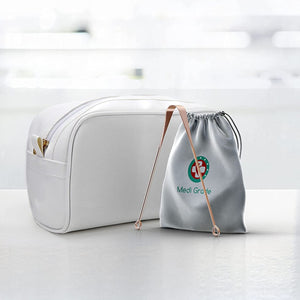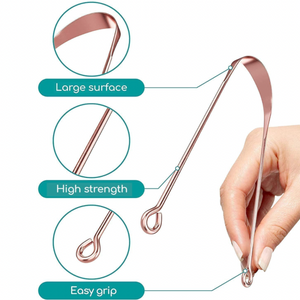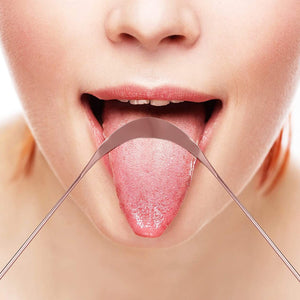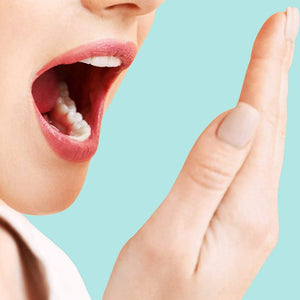 Medi Grade Copper Tongue Scraper - Tongue Cleaner

See our reviews on Trustpilot
Only one simple habit can give you better oral hygiene, and a cleaner tongue. Made from 100% pure copper, the long-lasting and durable tongue scraper by Medi Grade® effectively cleans the entire top and side surfaces of the tongue. Designed for comfort and ease of use, the tongue scraper is suitable for both adults and older kids.
Enjoy the powerful results of an easy addition to your daily oral routine.
Product Details 
SAVE YOUR BREATH & BOOST CONFIDENCE - Getting rid of bad breath is one of the keys to maintaining proper oral hygiene. Copper tongue cleaners will make changes to the environment of your mouth to reduce putrefaction while decreasing the white tongue coating. Discover how copper tongue cleaners can help you breathe a breath of fresh air versus a stainless-steel tongue scraper cleaner. 

IMPROVE YOUR ORAL HYGIENE - Every breath you take requires more than just brushing or flossing if you want to keep it fresh. Using metal tongue scrapers removes unwanted particles in the mouth commonly associated with gum, dental, and oral health issues. Regular use of this ayurvedic tongue scraper also reduces the amount of food residue left behind, commonly linked to bad breath.

ENHANCE YOUR TASTE BUDS - Think of all your favourite foods and flavours in life and imagine if you could experience every sweet or savoury sensation with more detail, depth, and intensity. Of course, after eating, you may be looking for a fresh breath solution. What if you could have a natural breath freshener that significantly improves taste sensation while reducing the white coating you feel on your tongue? Discover the freshness made possible with a tongue cleaner or scraper.

TONGUE HYGIENE BENEFITS OF COPPER - Copper is a highly effective element when it comes to breaking down oral nasties. Your mouth contains particles that are both good and bad to your oral environment. Copper is not only effective against the bad, it also provides help to the healthy parts in your mouth to survive. When it comes to fresh breath, you need the healthy balance and natural fresh breath made possible by the natural properties of copper.

COMPLETELY REUSABLE FOR LONG LASTING USE - This reusable tongue scraper should be used daily to maintain healthy oral hygiene. Based on Ayurveda principles, using the scraping edge to remove the white tongue residue assists the tongue in its day-to-day duties. This tongue cleaning set includes multi-lingual detailed instructions, cleaning cloth and branded bag for safe storage. It can also be used as a tongue cleaner for kids.
MORE INFORMATION
Estimated Delivery
UK Standard Delivery will take 2-3 business days.
Express Delivery
UK Express Delivery will take 1-2 business day/s.
Please find our shipping policy here.
Please be advised that there may be significant delays with any orders placed this December due to the Royal Mail Strikes and the Christmas period. You can follow the latest updates here.
Refund policy 

If our product doesn't work, you have 30 days after receiving your item to request a return. Please find our full policy here.
Have a question?
We have an awesome customer service team who will be more than happy to help you. You can get in touch via email at info@medigrade.store .
Discover What Experts Say About Our Products
Dive into in-depth reviews by Dr. James O'Donovan, a trusted voice in the medical community. Explore Medi Grade top-rated products through his lens and make informed choices.
WATCH NOW